Massage Therapy Information
Most job requirements cause wear on the body, from repetitive movements or stagnant positions such as: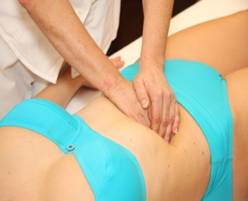 Sitting at a desk/ computer/ machinery/or over a person as in dentistry for long periods.
Standing at a work station/ lab/ till/ kitchen/ bar or in operating room in one position for long periods;
Carrying equipment/ laptops/ books/ briefcases or other paraphernalia.
Lifting, moving & stocking shelves/ racks/ trucks/ cars/ factories.
Bending to reach equipment or books on low shelves.
Waiting on tables.
Stress-induced habits such as clenching your jaw or tightening your muscles only serve to compound the damage done.
This section is for you, the client or potential client, who wants to know what you can expect in a treatment session.
For more information see:
Contraindications and Cautions for Massage Therapy Treatments – a list of ailments that should not be directly massaged and a list of severe conditions that should not be massaged while being experienced in the acute phases.
Donate to Massage Therapy Research
F.A.Q. About Massage Therapy - Frequently Asked Questions about massage therapy.
Fees for Registered Massage Therapy - a sample price list so that you can have a ballpark idea of what the pricing for RMTs run for.
News at Massage.ca - links, articles, videos and announcements that may be of interest to you.
RMT Links - a list of links that may interest you.
Performance and Preventive Health – for performers, singers, athletes, dancers and more.
For Physicians – links and articles.
Selecting a Massage Therapist - a checklist for selecting a therapist for treatment.
Massage Therapy Glossary of terms you might find while searching for a therapist.
What Does Massage Therapy Treat? - a list of ailments that massage therapy can help.
Zero Foot Print - why massage therapy is a healthy choice for
your well- being.
We are also in the process of adding to our database of articles and links to help you find out more about the field, so that you can be an informed participant in your care regimen.
Make sure you are getting the best treatment: See a Registered Massage Therapist
Disclaimer: Information on this site is not to be used for diagnosis or treatment. Massage.ca does not provide diagnostic or treatment services. Individuals should contact their RMT for further information or their physician for diagnosis.
Therapists: find out about listing here >>
Find Massage Therapists via our Directory click our City Links:
Barrie • Blackfalds • Brampton • Brantford • Calgary • Cochrane • Cornwall • Edmonton • Grimshaw • Guelph • Halifax • Hamilton • High Prairie • Kitchener-Waterloo • Medicine Hat • Mississauga • Moncton • Montreal • Muskoka Region • Oakville • Orillia • Ottawa • Regina • Sherwood Park • St. John's, NF • Sudbury • Sydney, NS • Toronto • Vancouver • Victoria • Whistler • Windsor • Winnipeg
Chair Massage • On-site Massage • Featured Websites