Help
Tips for Navigating Massage.ca:

The Registered Massage Therapist Directory links can be found at the bottom of our pages by clicking on our massage.ca City Links, by clicking on our Therapist Directory tab on the right of our home tab on our navigation bar and by clicking on point.click.relax. logo where they occur on our pages.
For therapists we have links and phone numbers for Massage Therapy Associations and go to the Professional Development page.
For more information RMT Links will take you there from green links to articles.
Search our Classifieds section for Jobs, Office space, and Announcements.
For more Massage Therapy information click Massage Therapy information and Donít Miss our FAQ for all the questions you were afraid to ask. And of course we have an online guide for you about considerations for Selecting your Massage Therapist choose from the links above.
Internet Basics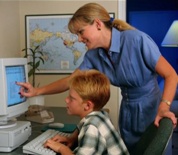 We have provided a list of sites that are useful for newcomers to the Internet. Some will help you with the basics of Internet etiquette (often called "Netiquette") and others will help you understand what exactly the Internet is and how it works.


Your Basic guide to the Internet is a comprehensive handbook.
Microsoft's Tutorials - Microsoft has assembled good basics.
Netiquette - a reference to help you understand internet etiquette.
This is a list of links to other applications you may require when using our site or those of the Practitioners we host:
Adobe Acrobat Reader - for PDFs to read
VCL Player- for variety of music files, video clips and movies
Adobe Flash Player - for Flash embedded games, video, music
Adobe Shockwave Player Ė you may encounter a files that require
Real Player - for streaming video files
WinZip - for compressing and opening WinZip ("zipped") files
QuickTime - for apple video files.
Contact Massage.ca here.
Therapists: find out about listing here >>
Find Massage Therapists via our Directory click our City Links:
Barrie • Blackfalds • Brampton • Brantford • Calgary • Cochrane • Cornwall • Edmonton • Grimshaw • Guelph • Halifax • Hamilton • High Prairie • Kitchener-Waterloo • Medicine Hat • Mississauga • Moncton • Montreal • Muskoka Region • Oakville • Orillia • Ottawa • Regina • Sherwood Park • St. John's, NF • Sudbury • Sydney, NS • Toronto • Vancouver • Victoria • Whistler • Windsor • Winnipeg
Chair Massage • On-site Massage • Featured Websites