Massage Therapy Glossary
Ai Chi (Flowing Aquatic Energy)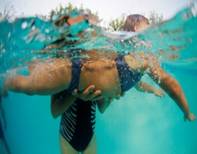 Ai Chi is a water exercise and relaxation program designed to help aquatic practitioners in the water. The exercises help in a flowing yet powerful progression. Ai chi was created by combining T'ai Chi concepts with Shiatsu and Watsu techniques. It is performed standing in shoulder-depth water using a combination of deep breathing and slow, broad movements of the arms, legs, and torso. The Ai Chi progression moves from simple breathing to upper extremity movement, to movement of the trunk, and finally to lower extremity movement. It promotes relaxation, stability, and coordinated breathing, and improves flexibility, mobility, and strength. See Watsu and Aquatic Massage.
Please read our Disclaimer.
Is there a therapy not here that you would like to see included? To contribute a term, its history and a definition to massage.ca glossary click here.
Therapists: find out about listing here >>
Back to Massage Therapy Glossary
Find Massage Therapists via our Directory click our City Links:
Barrie • Blackfalds • Brampton • Brantford • Calgary • Cochrane • Cornwall • Edmonton • Grimshaw • Guelph • Halifax • Hamilton • High Prairie • Kitchener-Waterloo • Medicine Hat • Mississauga • Moncton • Montreal • Muskoka Region • Oakville • Orillia • Ottawa • Regina • Sherwood Park •
St. John's, NF • Sudbury • Sydney, NS • Toronto • Vancouver • Victoria • Whistler • Windsor • Winnipeg
Chair Massage • On-site Massage • Featured Websites