Massage Therapy Glossary
Visceral Manipulation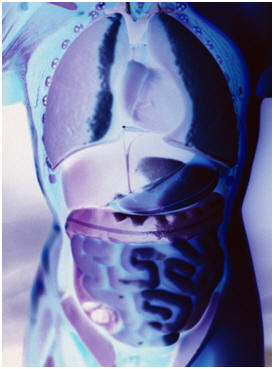 This gentle, hands-on, osteopathic technique works on the fascia of the abdominal organs, to alleviate points of tension throughout the body. Visceral manipulation, known in Tibet for over 200 years, was adapted by Jean Pierre Barrall, a French osteopath. His osteopathic version is known internationally. Spasms, adhesions and discomfort of the abdomen caused by severe trauma can cause chronic irritation and fascial displacement. The gentle, deep abdominal manipulation helps reduce the blockages and restrictions of the tissues and restores the proper movement of the organs. Visceral massage can ease back pain, indigestion and discomfort caused by abdominal duress. No oils are used. Also see Abdominal Massage and Osteopathy.
Please read our Disclaimer.
Is there a therapy not here that you would like to see included? To contribute a term, its history and a definition to massage.ca glossary click here.
Therapists: find out about listing here >>
Back to Massage Therapy Glossary
Find Massage Therapists via our Directory click our City Links:
Barrie • Blackfalds • Brampton • Brantford • Calgary • Cochrane • Cornwall • Edmonton • Grimshaw • Guelph • Halifax • Hamilton • High Prairie • Kitchener-Waterloo • Medicine Hat • Mississauga • Moncton • Montreal • Muskoka Region • Oakville • Orillia • Ottawa • Regina • Sherwood Park •
St. John's, NF • Sudbury • Sydney, NS • Toronto • Vancouver • Victoria • Whistler • Windsor • Winnipeg
Chair Massage • On-site Massage • Featured Websites