Massage Therapy Glossary
Trigger Point Therapy/ Myofascial Release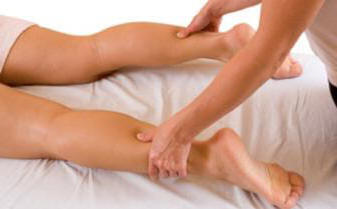 Simply put, the therapist locates and deactivates trigger points. This therapy affects the muscles and connective tissues layers and deeper ligament structures. Applying these release techniques is very similar to acupressure. The term Myofascial appeared first in medical literature by Janet G. Travell M.D. in the 1940s, referring to musculoskeletal pain and trigger points. In 1976, she started using the terminology "Myofascial Trigger Point" and, in 1983, published the famous reference "Myofascial Pain & Dysfunction: The Trigger Point Manual". Treatment begins with a physical examination a focus on the area of pain and discomfort by observing the movements and posture, areas of muscle shortening with weakness and decreased movement. When on the massage table you should be as relaxed as possible. Manual massage techniques are used for stretching the fascia and releasing bonds between fascia, integument, muscles, and bone. Trigger points can be felt in amongst normal muscle tissue. Once a trigger point is located, the local twitch response can be elicited as muscle or skin twitching. You can feel sour (light electric-like sensation) or numb, but not knife-cut like pain when the trigger point is pressed and released. It is a pain-relief technique to alleviate muscle spasms and cramping. This can be done on a massage table, with or without oils.
Please read our Disclaimer.
Is there a therapy not here that you would like to see included? To contribute a term, its history and a definition to massage.ca glossary click here.
Therapists: find out about listing here >>
Back to Massage Therapy Glossary
Find Massage Therapists via our Directory click our City Links:
Barrie • Blackfalds • Brampton • Brantford • Calgary • Cochrane • Cornwall • Edmonton • Grimshaw • Guelph • Halifax • Hamilton • High Prairie • Kitchener-Waterloo • Medicine Hat • Mississauga • Moncton • Montreal • Muskoka Region • Oakville • Orillia • Ottawa • Regina • Sherwood Park •
St. John's, NF • Sudbury • Sydney, NS • Toronto • Vancouver • Victoria • Whistler • Windsor • Winnipeg
Chair Massage • On-site Massage • Featured Websites