Massage Therapy Glossary
Soft Tissue Release (STR)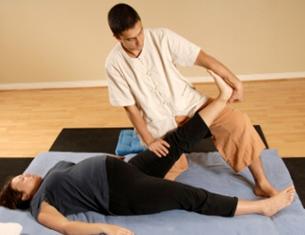 This is a traditional Japanese hands-on therapy. This is based on anatomical and physiological theory and is regulated as a licensed medical therapy with the Ministry of Health and Welfare in Japan. "Shiatsupractor" is the name given to a recently proposed international standardized shiatsu license in Canada; they are required to study at least three years which is 2,200 hour educational program of shiatsu therapy in the universities or colleges which are authorized by the Ministry of Health and Welfare and pass the national exam to be licensed. Shiatsu's first published citing may be in a 1915 book, Tenpaku Tamai's Shiatsu Ryoho. Pressure with thumbs, fingers and palms applied to determined areas and points of the human body, without the use of any mechanical or of another type instrument, correcting internal dysfunctions, promoting and keeping the health and treating specific illnesses. Moxibustion (Chinese: 灸; pinyin: jiǔ. or Yomogi (蓬) a synonym for moxa in Japan) treatment consists of warming certain acu-points with glowing moxa stick it is used in both acupuncture and acupressure treatments. Moxa is a dried preparation of the medicinal herb, Mugwort, ground up into a fluff or processed into a stick. Mugwort acts as an emmenagogue, meaning that it stimulates blood-flow in the pelvic area and uterus. It is used to treat certain conditions with cold symptoms and can be helpful for menstrual problems. It can stimulate circulation and speed recovery. It is traditional used in medical systems of China, Japan, Korea, Vietnam, Tibet, and Mongolia.
Please read our Disclaimer.
Is there a therapy not here that you would like to see included? To contribute a term, its history and a definition to massage.ca glossary click here.
Therapists: find out about listing here >>
Back to Massage Therapy Glossary
Find Massage Therapists via our Directory click our City Links:
Barrie • Blackfalds • Brampton • Brantford • Calgary • Cochrane • Cornwall • Edmonton • Grimshaw • Guelph • Halifax • Hamilton •
High Prairie • Kitchener-Waterloo • Medicine Hat • Mississauga • Moncton • Montreal • Muskoka Region • Oakville • Orillia • Ottawa • Regina • Sherwood Park • St. John's, NF • Sudbury • Sydney, NS • Toronto • Vancouver • Victoria • Whistler • Windsor • Winnipeg
Chair Massage • On-site Massage • Featured Websites