Massage Therapy Glossary
Reflexology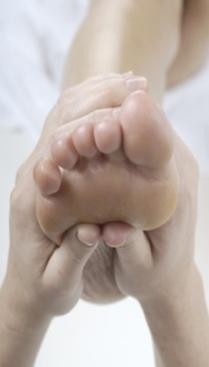 Is a method of stimulating reflex points in the foot, hand or ear that correspond to specific glands, organs or parts of the body. Stimulation of these reflex points results in increased energy or Qi and blood circulation, aiding lymph drainage as well as relieving stress and tension, thus allowing harmony to return to the body. An ear, nose, and throat specialist, William H. Fitzgerald, M.D. and Dr. Edwin Bowers brought the first version to the US in 1913; Fitzgerald claimed that applying pressure had an anaesthetic effect on other areas of the body. A further development occurred in the 1930s. Eunice Ingham, a physiotherapist, mapped the entire body as it corresponded to the feet she called it "zone therapy" and used it to reduce pain. Ingham developed the work into the Ingham Reflex Method of Compression Massage, later known as reflexology. There are ancient versions of these systems and other similar practices from the east, China, India and Tibet and one brought to the US by Stanley Borroughs is known as Vita flex. See Vita flex.
Please read our Disclaimer.
Is there a therapy not here that you would like to see included? To contribute a term, its history and a definition to massage.ca glossary click here.
Therapists: find out about listing here >>
Back to Massage Therapy Glossary
Find Massage Therapists via our Directory click our City Links:
Barrie • Blackfalds • Brampton • Brantford • Calgary • Cochrane • Cornwall • Edmonton • Grimshaw • Guelph • Halifax • Hamilton • High Prairie • Kitchener-Waterloo • Medicine Hat • Mississauga • Moncton • Montreal • Muskoka Region • Oakville • Orillia • Ottawa • Regina • Sherwood Park •
St. John's, NF • Sudbury • Sydney, NS • Toronto • Vancouver • Victoria • Whistler • Windsor • Winnipeg
Chair Massage • On-site Massage • Featured Websites