Massage Therapy Glossary
Prenatal and Pregnancy Massage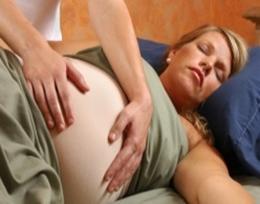 Preformed by a Registered Massage Therapist this is an effective and safe treatment for the prenatal period as well as during labour and postpartum of women's pregnancies. Prenatal massage techniques can reduce discomfort and enhance the physiological and emotional well-being of both mother and fetus. Massage therapy support can ease labour and decrease anxiety. The postpartum period massage helps the body as it rebalances the physiology and calms a new mother.
Please read our Disclaimer.
Is there a therapy not here that you would like to see included? To contribute a term, its history and a definition to massage.ca glossary click here.
Therapists: find out about listing here >>
Back to Massage Therapy Glossary
Find Massage Therapists via our Directory click our City Links:
Barrie • Blackfalds • Brampton • Brantford • Calgary • Cochrane • Cornwall • Edmonton • Grimshaw • Guelph • Halifax • Hamilton • High Prairie • Kitchener-Waterloo • Medicine Hat • Mississauga • Moncton • Montreal • Muskoka Region • Oakville • Orillia • Ottawa • Regina • Sherwood Park •
St. John's, NF • Sudbury • Sydney, NS • Toronto • Vancouver • Victoria • Whistler • Windsor • Winnipeg
Chair Massage • On-site Massage • Featured Websites