Massage Therapy Glossary
Pilates Exercise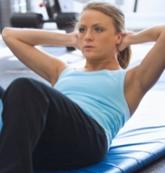 Joseph Pilates (1880-1967) invented and promoted the Pilates method, motivated by his own weakness from childhood asthma, rickets and rheumatic fever. Influenced by his Greek father, a prize-winning gymnast and his German mother, a naturopath, Joe, by the age of 14, was well studied in body-building and gymnastics. Pilates is a low impact body maintenance and rehabilitation program designed strengthen muscles, open joints and release tension. Results include improved posture and ease of movement during daily activities, recreation and sports. He moved on to design a series of exercises and engineering the equipment for it. Moving to England In 1912 he earned a living as a boxer, circus-performer and self-defense trainer. The British authorities in WWI interned him in the Isle of Man with other German's in a camp. This is where his fitness training of others took shape and the Pilates Method was born. Once in the US, with his wife Clara (she named it "Contrology", relating to the use of the mind to control the core postural muscles and provide support for the spine). In particular, Pilate's exercises teach breath awareness and spinal alignment and strengthen the abdominal and the deep torso muscles.
Please read our Disclaimer.
Is there a therapy not here that you would like to see included? To contribute a term, its history and a definition to massage.ca glossary click here.
Therapists: find out about listing here >>
Back to Massage Therapy Glossary
Find Massage Therapists via our Directory click our City Links:
Barrie • Blackfalds • Brampton • Brantford • Calgary • Cochrane • Cornwall • Edmonton • Grimshaw • Guelph • Halifax • Hamilton • High Prairie • Kitchener-Waterloo • Medicine Hat • Mississauga • Moncton • Montreal • Muskoka Region • Oakville • Orillia • Ottawa • Regina • Sherwood Park •
St. John's, NF • Sudbury • Sydney, NS • Toronto • Vancouver • Victoria • Whistler • Windsor • Winnipeg
Chair Massage • On-site Massage • Featured Websites