Massage Therapy Glossary
Native American Bodywork Practices
by Lewis Mehl-Madrona, MD. This article is Included in this glossary with the permission of the author.
In this piece, Lewis Mehl-Madrona, who is of Cherokee and Lakota heritage, shares insights into types of bodywork practiced by Native American peoples. All peoples have methods for hands-on therapy, what we now call bodywork. The Cherokee people of North America, for example, were well versed in body therapies and energy healing. They developed a comprehensive, sophisticated bodywork system that encompassed a form of osteopathic massage and manipulation, breath, and energy work. Central to this technique are the alternation of deep pressure and gentle rocking release. The breath was also used to reanimate the body and "draw spirit" into affected tissues. They also used crystal scanning and healing as well as the channeling of spirits and energy medicine. The Cherokee were also familiar with acupuncture meridians and used acupuncture, with needles made of thorns or porcupine quills, in healing. A nineteenth-century monograph, the Swimmer manuscript in the Smithsonian Institute, speaks to the use of acupuncture by the "primitive savages, when every civilized person would know that the proper treatment is bleeding with leeches." In his book on Native American medicine, Ken Cohen, who worked with a Cherokee mentor, noted, "Massage, healing touch, and non-contact healing are practiced by Native healers throughout North and South America. Often the hands are used to sweep away or remove spiritual intrusions or to brush in healing powers. Cherokees warm their hands over coals and circle their palms either on or above an affected area. Some healers hold their hands to the front and back of an affected area, creating what they now call 'electrodes within the body.' The healer imagines that electricity is moving from one hand to the other. Sometimes the muscles are rubbed in a manner similar to Western massage. To increase the healing effect, the medicine person massages specific therapeutic points."
A Variety of Bodywork Traditions
Other bodywork practices are found throughout Native American cultures. The Zuni pueblo in New Mexico practice a technique very similar to the high-velocity adjustment of the neck and spine popularized as chiropractic. Dene and Cherokee bone setters have all but disappeared, but accounts from the nineteenth century support the belief that most felt it was safer to go to a Dene bone setter than to a conventional physician of that era. (The Dene people live in Northern New Mexico and Arizona and are often called Navajo, though that is not a term they use.)
The Hopi people and their practices were the source of inspiration for a type of massage now called Hakomi. Native American practices, in which hot and cold stones are used to deeply penetrate muscles and tissues to reduce pain and inflammation are what we now know as stone massage. All of these practices integrate physical, emotional, psychological, and spiritual aspects of a person.
Discussion exists among Native American scholars as to whether A.J. Still, the father of American osteopathic medicine, who was also the physician for the Shawnee Nation for more than 20 years, lifted much of what became osteopathic medicine or chiropractic from Shawnee healing practices. The Shawnee were originally native to northern Kentucky and southern Ohio and were neighbors to the Cherokee, with whom they share many similarities in bodywork practices. According to this theory, Still took the techniques of Shawnee bodywork and rendered them mechanical as fitted the European paradigm of the day (Shawnee concepts were decidedly more energetic and spiritual). He marketed these techniques and developed the first colleges of osteopathy in the United States.
Hawai'ian Lomi lomi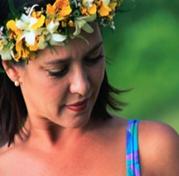 Native Hawaiians' have kept the lomi lomi tradition alive with the help of eager tourists. Lomi lomi is a sacred hands-on form of transformational bodywork based in ancient traditions of Polynesian influence found throughout the islands of the Pacific. Deeply spiritual in nature, it was passed down from generation to generation and practiced by the Kahunas, the shamans or healers, to align a person's physical, emotional, and spiritual bodies, renewing the mind-body connection and facilitating the body's innate ability to heal.
Hawaiian-born nurse, Margaret Machado, formalized the technique. The strokes used are similar to Japan's shiatsu technique and are often deeper than Swedish massage, the type most Americans are familiar with. Pressure with fingers at certain points is also part of the technique, but it is of shorter duration than most acupressure. Two identifying techniques of authentic lomi lomi are the emphasis on spirit/body connection and the use of forearm and elbow as a massage tool.
Recognizing Native Practices
Unfortunately, little has been done to recognize Native healing practices, although some states have acknowledged the touch therapies provided by traditional healers. For example, the state of Alabama has stated, "Native American healers practicing traditional healing practices are exempt from compliance with the Act [Massage Therapy Act] and these rules and regulations, provided they do not represent or advertise themselves as massage therapists."
Personally, I had the opportunity to learn Cherokee bodywork techniques from two older women who practiced it, and I am committed to making sure that it does not disappear. I teach this approach because I wish to continue to restore the strength and the resilience of the Cherokee approach to touch therapies that has characterized Cherokee medicine for centuries.
Lewis Mehl-Madrona, MD, graduated from Stanford University School of Medicine and trained in family medicine, psychiatry, and clinical psychology. He has been on the faculties of several medical schools and is the author of Coyote Medicine, Coyote Healing, and Coyote Wisdom, a trilogy of books on what Native culture has to offer the modern world. Lewis is working with aboriginal communities to develop uniquely aboriginal styles of healing and health care for use in those communities.
Overview of traditional North American healing practices: These practices are based on the belief that healing has a spiritual aspect that must be addressed. Elders say that they heal both the body and soul, as well as restore harmony to the community and nature. Healers communicate with spirits in order to help heal. Some healers say they can heal spiritual, psychic, and physical wounds as well as communities and global conditions.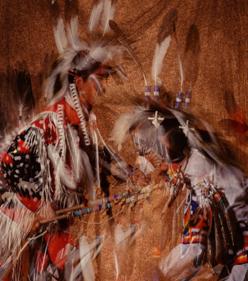 Healers work in cultures that include other specialists such as herbalists, diviners, bonesetters, and midwives. Some healers are very selective in choosing which people they will treat because if they fail, they lose stature. What does it involve? Healers enter a trance to figure out what is wrong with the patient and what to do about it. The healer or an assistant may pray, sing, chant, dance, or drum around the patient. Storytelling and other art forms may also be used. During the trance, the healer's soul is believed to leave the body and travel to the spirit world in a search to help the sick person. This is where the healer communicates with the spirits thought to be responsible for the illness. Although the healer is in a state of trance, he is still conscious and aware. This allows him to bargain with the spirits who can help the patient's illness. The healer returns and shares his or her vision with the sick person. Each healer must complete rigorous training, especially in the ability to achieve the controlled trance required for communication with the spirits. Healers work both with individual patients and with groups. What is the history behind it? Traditional healing of this type may date back as far as 40,000 years. It is believed to have begun in the Altai and Ural Mountains of western China and Russia, probably in the form of a religion. In the Tungusu-Manchurian language, the word shaman means, "one who knows." Native North American healing emphasizes the role faith, hope, and belief play as they are embedded within a community and a culture. Traditional healing emphasizes the importance of relational and cultural elements in determining the effectiveness of complementary and alternative medicine and will reflect upon research methodologies to capture these phenomena. Native American Indian community-based medical systems have a number of rituals and practices: sweating and purging, usually done in a "sweat lodge"; the use of herbal remedies gathered from the surrounding environment and sometimes traded over long distances; and shamanic healing involving naturalistic or personalistic healing. Tribes such as the Lakota and Dineh (Navajo) also use practices such as the medicine wheel, sacred hoop, and the "sing," which is a healing ceremony rite that lasts from two to nine days and nights and is guided by a highly skilled specialist called a "singer." Formal research into the healing ceremonies and herbal medicines conducted and used by bona fide Native American Indian healers or holy people is almost nonexistent, even though Native American Indians believe they positively cure both the mind and body. Ailments and diseases such as heart disease, diabetes, thyroid conditions, cancer, skin rashes, and asthma reportedly have been cured by Native American Indian doctors who are knowledgeable about the complex ceremonies. By Lewis Mehl-Madrona, MD
Please read our Disclaimer.
Is there a therapy not here that you would like to see included? To contribute a term, its history and a definition to massage.ca glossary click here.
Therapists: find out about listing here >>
Back to Massage Therapy Glossary
Find Massage Therapists via our Directory click our City Links:
Barrie • Blackfalds • Brampton • Brantford • Calgary • Cochrane • Cornwall • Edmonton • Grimshaw • Guelph • Halifax • Hamilton • High Prairie • Kitchener-Waterloo • Medicine Hat • Mississauga • Moncton • Montreal • Muskoka Region • Oakville • Orillia • Ottawa • Regina • Sherwood Park •
St. John's, NF • Sudbury • Sydney, NS • Toronto • Vancouver • Victoria • Whistler • Windsor • Winnipeg
Chair Massage • On-site Massage • Featured Websites