Massage Therapy Glossary
Medical Massage Therapy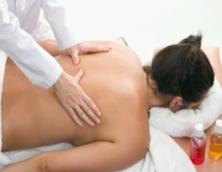 This is a name used in some jurisdictions where massage training may not cover rehabilitation. Therefore, this form of Swedish massage must be distinguished from other forms of massage and therapists who do not do rehabilitation. In these instances and in these jurisdictions, medics send patients with a prescription that directs the course of treatment to a massage therapist who does medical rehabilitation. This massage therapist will treat injuries and a wide variety of illnesses. These treatments are often of short duration, like physiotherapy sessions, and deal with only the problem or injured area. In jurisdictions where Massage Therapists are regulated, primary healthcare providers, the roll of the doctor is to diagnose the injury or illness, but not to direct massage therapy care or treatment.
Please read our Disclaimer.
Is there a therapy not here that you would like to see included? To contribute a term, its history and a definition to massage.ca glossary click here.
Therapists: find out about listing here >>
Back to Massage Therapy Glossary
Find Massage Therapists via our Directory click our City Links:
Barrie • Blackfalds • Brampton • Brantford • Calgary • Cochrane • Cornwall • Edmonton • Grimshaw • Guelph • Halifax • Hamilton • High Prairie • Kitchener-Waterloo • Medicine Hat • Mississauga • Moncton • Montreal • Muskoka Region • Oakville • Orillia • Ottawa • Regina • Sherwood Park •
St. John's, NF • Sudbury • Sydney, NS • Toronto • Vancouver • Victoria • Whistler • Windsor • Winnipeg
Chair Massage • On-site Massage • Featured Websites