Massage Therapy Glossary
Kinesiology/Kinesiologists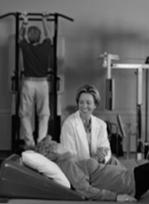 Kinesiology is the scientific study of human movement. Professional Kinesiologists have obtained a university degree and practise the assessment of movement. They can work in disability management, case coordination, health and safety, ergonomics, and clinical rehabilitation, the rehabilitation, prevention, and management of disorders in order to maintain, rehabilitate, and enhance movement. They work with performance and function in the areas of sport, recreation, work, exercise, and activities of daily living.
Please read our Disclaimer.
Is there a therapy not here that you would like to see included? To contribute a term, its history and a definition to massage.ca glossary click here.
Therapists: find out about listing here >>
Back to Massage Therapy Glossary
Find Massage Therapists via our Directory click our City Links:
Barrie • Blackfalds • Brampton • Brantford • Calgary • Cochrane • Cornwall • Edmonton • Grimshaw • Guelph • Halifax • Hamilton • High Prairie • Kitchener-Waterloo • Medicine Hat • Mississauga • Moncton • Montreal • Muskoka Region • Oakville • Orillia • Ottawa • Regina • Sherwood Park •
St. John's, NF • Sudbury • Sydney, NS • Toronto • Vancouver • Victoria • Whistler • Windsor • Winnipeg
Chair Massage • On-site Massage • Featured Websites