Massage Therapy Glossary
Infant Massage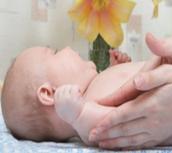 This technique deals with teaching parents how to massage their infants. Hospital neonatal care units utilize this specialized form of touch and infant massage to manage the critical weight gain of premature infants. It is an important technique to create a strong bond between a parents and her/his child, and to promote growth from the intimate communication, benefits, and pleasures of touch. See the Touch Institute studies.
Please read our Disclaimer.
Is there a therapy not here that you would like to see included? To contribute a term, its history and a definition to massage.ca glossary click here.
Therapists: find out about listing here >>
Back to Massage Therapy Glossary
Find Massage Therapists via our Directory click our City Links:
Barrie • Blackfalds • Brampton • Brantford • Calgary • Cochrane • Cornwall • Edmonton • Grimshaw • Guelph • Halifax • Hamilton • High Prairie • Kitchener-Waterloo • Medicine Hat • Mississauga • Moncton • Montreal • Muskoka Region • Oakville • Orillia • Ottawa • Regina • Sherwood Park •
St. John's, NF • Sudbury • Sydney, NS • Toronto • Vancouver • Victoria • Whistler • Windsor • Winnipeg
Chair Massage • On-site Massage • Featured Websites