Massage Therapy Glossary
Indian Head Massage also known under the trademarked term Champissage™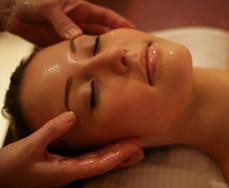 Brought by Narendra Mehta to the west in the 1970's, this therapy is now practiced all over Europe. The technique originates from the Ayurvedic system of healing practiced for thousands of years in India. Ancient Sanskrit writings have recently shown the Ayurvedic system to have been around for approximately seven thousand years. Today Indian Head Massage is a part of the cultural daily practice for Indian families seeking relaxation and healing. The technique involves treatment of the head, neck and face. All of these, including the facial areas, are massaged to manipulate the energy channels. The aim is to clear impediments in the energy flow that cause an excess of negative energy. These obstructions are purported to cause ailments such as stress, nociception, and hair loss. Treatment is done clothed and seated, and lasts up to 45 minutes.
Please read our Disclaimer.
Is there a therapy not here that you would like to see included? To contribute a term, its history and a definition to massage.ca glossary click here.
Therapists: find out about listing here >>
Back to Massage Therapy Glossary
Find Massage Therapists via our Directory click our City Links:
Barrie • Blackfalds • Brampton • Brantford • Calgary • Cochrane • Cornwall • Edmonton • Grimshaw • Guelph • Halifax • Hamilton • High Prairie • Kitchener-Waterloo • Medicine Hat • Mississauga • Moncton • Montreal • Muskoka Region • Oakville • Orillia • Ottawa • Regina • Sherwood Park •
St. John's, NF • Sudbury • Sydney, NS • Toronto • Vancouver • Victoria • Whistler • Windsor • Winnipeg
Chair Massage • On-site Massage • Featured Websites