Massage Therapy Glossary
Hot Stone Massage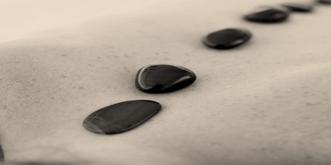 This is a geothermal hydrotherapy technique using stones heated by water. The basalt stones are dark volcanic rock with high levels of iron, and are able to absorb and retain heat. Selected for their smoothness, they are obtained from the rushing waters of riverbeds. The iron in the stones grounds the body. The stones held in the palm of the hand are used for massaging the body's tissues, or placed on the body's energy centres, the stones may be used to improve circulation and to calm the nervous system. Cold stones are often used to reduce the inflammation and refresh and tone the heated tissues. The use of hot stones for healing dates back to ancient times. In the 1980's, the Arizona massage therapist Mary Nelson introduced her popular style known as La Stone Therapy.
Please read our Disclaimer.
Is there a therapy not here that you would like to see included? To contribute a term, its history and a definition to massage.ca glossary click here.
Therapists: find out about listing here >>
Back to Massage Therapy Glossary
Find Massage Therapists via our Directory click our City Links:
Barrie • Blackfalds • Brampton • Brantford • Calgary • Cochrane • Cornwall • Edmonton • Grimshaw • Guelph • Halifax • Hamilton •
High Prairie • Kitchener-Waterloo • Medicine Hat • Mississauga • Moncton • Montreal • Muskoka Region • Oakville • Orillia • Ottawa • Regina • Sherwood Park • St. John's, NF • Sudbury • Sydney, NS • Toronto • Vancouver • Victoria • Whistler • Windsor • Winnipeg
Chair Massage • On-site Massage • Featured Websites