Massage Therapy Glossary
Facial Massage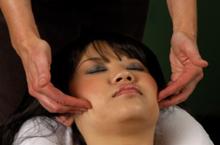 This refers to focusing on the face for treatment for an entire session or can a portion of a massage treatment. Aside from slowing the aging process, ongoing treatments can maintain healthier skin, muscle, and nervous tissues and improve facial tone. Most often relief of stress, headaches, jaw aches, pain, and sinus congestion are the primary reasons for a facial massage. Swedish and pressure points on the face and neck are stimulated in order to release the vital energy flow. A small amount of oil or lotion is often applied to facilitate movement over the delicate facial areas.
Please read our Disclaimer.
Is there a therapy not here that you would like to see included? To contribute a term, its history and a definition to massage.ca glossary click here.
Therapists: find out about listing here >>
Back to Massage Therapy Glossary
Find Massage Therapists via our Directory click our City Links:
Barrie • Blackfalds • Brampton • Brantford • Calgary • Cochrane • Cornwall • Edmonton • Grimshaw • Guelph • Halifax • Hamilton • High Prairie • Kitchener-Waterloo • Medicine Hat • Mississauga • Moncton • Montreal • Muskoka Region • Oakville • Orillia • Ottawa • Regina • Sherwood Park •
St. John's, NF • Sudbury • Sydney, NS • Toronto • Vancouver • Victoria • Whistler • Windsor • Winnipeg
Chair Massage • On-site Massage • Featured Websites