Massage Therapy Glossary
Deep Connective Tissue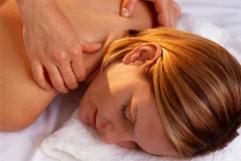 This is a form of intense work that aims to release Myofascial (connective tissue) restrictions in the body, and thereby frequently breaking up restrictive scar tissue and adhesions. Relief of chronic tension helps to increase the range of motion in the joints. These massage techniques tend to be slower and require the application of more pressure. The massage therapist applies the intense pressure to the deeper tissue structures of the muscle, in order to restore the length and flexibility to the fascia, a fibrous tissue that surrounds the muscles and organs. All clients are asked to inform their therapist immediately if and when the stroke pressure is too intense. Little or no oil or lotions is used.
Please read our Disclaimer.
Is there a therapy not here that you would like to see included? To contribute a term, its history and a definition to massage.ca glossary click here.
Therapists: find out about listing here >>
Back to Massage Therapy Glossary
Find Massage Therapists via our Directory click our City Links:
Barrie • Blackfalds • Brampton • Brantford • Calgary • Cochrane • Cornwall • Edmonton • Grimshaw • Guelph • Halifax • Hamilton • High Prairie • Kitchener-Waterloo • Medicine Hat • Mississauga • Moncton • Montreal • Muskoka Region • Oakville • Orillia • Ottawa • Regina • Sherwood Park •
St. John's, NF • Sudbury • Sydney, NS • Toronto • Vancouver • Victoria • Whistler • Windsor • Winnipeg
Chair Massage • On-site Massage • Featured Websites