Activation of the chakra energy is the focus of Chakra Energy Massage treatment involving massaging points on the feet. These are some of the Chakras: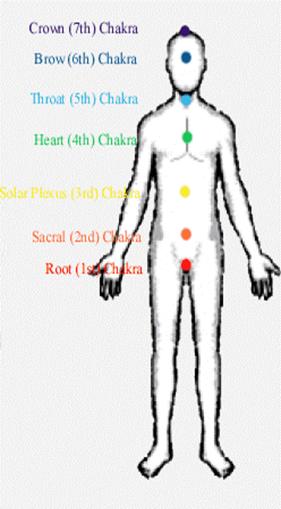 Crown is violet in colour and connects the body to the upper chakras and the Spiritual Body, our wisdom and integration of our eternal selves with our current physical selves like our umbilical cord to the Source
Pineal gland central nervous system, cerebral cortex, right eye
Brow Pituitary gland, pineal gland, nose, ears, left eye; some call it the "third" eye.
Throat Thyroid gland, hypothalamus, parathyroid, throat, mouth
Heart Thymus gland, heart, lungs, arms, hands, circulatory system
Solar Plexus Adrenal glands, stomach, pancreas, liver, gallbladder, nerves, muscles, nervous system
Sacral Prostate gland, spleen, ovaries, womb, genitals, testicles, bladder, adrenals
Root Adrenal glands, kidneys, colon, spinal column, legs, bones
Please read our Disclaimer.
Is there a therapy not here that you would like to see included? To contribute a term, its history and a definition to massage.ca glossary click here.