Massage Therapy Glossary
Breast Massage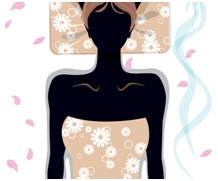 Breast Massage treatments involve gentle hands-on massage techniques to improve circulation and drainage.  Depending on the condition being treated, hydrotherapy such as warm and cold wraps can also be used.  The problems necessitating this treatment can arise from something as simple as clothing constricting the breast tissue. This restricts proper circulation and drainage, and can cause discomfort and pain in the breast tissues. It is important that you give your therapist verbal or written consent before breast treatment can take place.  The indications for breast massage are: client requests the treatment as part of a holistic treatment for breast health, breast cancer treatments, congestion and swelling, breast pain and injury or scarring caused by surgery or trauma, pregnancy breast feeding and weaning, premenstrual and menopause, and/or trauma causing painful syndromes.  The practice of breast massage should be in conjunction with (and not a substitute for) regular self-breast exams.  Consult a physician when a lump is found in the breast (this area should not be massaged).
Please read our Disclaimer.
Is there a therapy not here that you would like to see included? To contribute a term, its history and a definition to massage.ca glossary click here.
Therapists: find out about listing here >>
Back to Massage Therapy Glossary
Find Massage Therapists via our Directory click our City Links:
Barrie • Blackfalds • Brampton • Brantford • Calgary • Cochrane • Cornwall • Edmonton • Grimshaw • Guelph • Halifax • Hamilton •
High Prairie • Kitchener-Waterloo • Medicine Hat • Mississauga • Moncton • Montreal • Muskoka Region • Oakville • Orillia • Ottawa • Regina • Sherwood Park • St. John's, NF • Sudbury • Sydney, NS • Toronto • Vancouver • Victoria • Whistler • Windsor • Winnipeg
Chair Massage • On-site Massage • Featured Websites